Welcome to the Graphics Reproduction Services Online Ordering Website
About Us: It is our goal at the VCOE Graphics Services Center to provide you with the highest quality services, at or below outside printing prices, in a reasonable amount of time. Our professional staff can help you produce documents that will better communicate your message with our unique understanding of the needs of educators and also by using the latest in printing technology. We also offer several types of products and services, as well as free estimates. In many cases your printing can be done same day for pick up. A dedicated courier service picks up and delivers jobs to district offices and VCOE schools sites so check their schedule for delivery.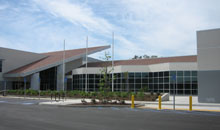 We are located in the VCOE Conference & Educational Services Center, 5100 Adolfo Road, Camarillo, CA 93012
Phone: 805-437-1310
FAX: 805-389-4279
Hours of Operation: 8:00 - 5:00, M-F We are closed most local school holidays.
---
What Can We Do For You? Print Services List
Binding: A wide range of binding options are available. Ring Binders, Spiral Binding, Perfect Binding etc.

Copies - Black & White: We're equipped with state-of-the-art high speed black & white production printers to print up to 11 x 17 with multiple online binding options.

Copies - Full Color: Our Production model Xerox Printer/Copier produces high quality full color copies up 12x18, also with multiple folding and booklet printing options, at competitive pricing.

Variable Data: We can accept most any database, spreadsheet or delimited file to merge information directly onto your certificates, envelopes or printed piece.

Folding: Folding up to 11 x 17, single, tri-fold, z-fold, double folds.

Laminating: Up to 24" wide with 3 mil thickness.

Other Services: Online Booklet maker, Padding, Cutting, Punching/Drilling: Spiral, GBC (19 ring), or standard 3 hole. Full color 40" large format posters. Large format black & white posters.
How to Submit a Request for Printing
This website offers our users the ability to get real time pricing for their online orders and tracking of their printing costs. Get quotes, upload files, check order status, track your costs, review past orders, as well as re-ordering a job from your order history.
Types of Orders
Printing Order - Multi-step ordering process that allows you to select every printing & bindery option. Use this option for all other jobs including: press jobs, color copying, graphic design, NCR printing (multiple copy forms), and jobs with cutting, folding, and advanced bindery. This option is also used for any posters or sign jobs to be completed by the Graphics Department.
Getting Started
First, you must be registered to use the system (see blue side bar). You will then need to receive an approval e-mail stating you can log into the system.
When you submit a work order request, you will have the option of uploading a file to be printed. (We strongly recommend doing this if possible. It will speed up the turn around time and you can submit tickets remotely.)
But what if you only have a hard copy of your document? Or what if you have updates for a document that the Graphics Department already has? You can print out the ticket that the system creates in a pop-up window and attach it to the document. Then send the document and ticket to the Graphics Department through interoffice mail.